Music and Publications by Carl Dimow:

Klezmer Suite:
Now carried by ALRY Publications
"Thanks for writing such a great piece!!! We've performed it twice now and have had nothing but rave reviews!" Duo Beija-Flor, (Montreal) www.duobeija-flor.com
"I'm convinced publication of the klezmer suite will be a big success.. . .particularly since you notated the effects." Jan Boland, (Boland Dowdall Duo)

New CD The Acadia Session:
For more information click here.
To purchase please visit Amazon.
"...capture(s) an intimate moment of improvisational wizardry and musical freedom."
– Portland Phoenix
"The Acadia Session" shows that very good things can happen in the musical moment.
– Portland Press Herald

Border Crossings:
Kolosko-Dimow Duo = Carl Dimow – flute/bass flute; Nathan Kolosko – Classical Guitar
"The interplay between Kolosko's impassioned fretwork and Dimow's mesmerizing work on flute and bass flute is often magical. In "Border Crossings" The Kolosko-Dimow Duo has created a musical reverie."
– James Filkins - minor 7th
"captivating new disc...the color of the guitar combines with the melancholy bass flute tone in harmonically heart-wrenching ways."
– The Flutist Quarterly
Nayarit – (Nathan Kolosko)
Klezmer Suite – (Carl Dimow)
Afro Sambas – Baden Powell (Arr. Kolosko, Dimow)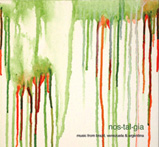 nos-tal.gia:
with Nathan Kolosko
"The Bachianas Brasileiras by Villa-Lobos is stunning on bass flute. This is a great recording that I highly recommend."
– Flute Talk Magazine
"...such artistry, you may find yourself levitated a few inches off the floor ... the sound is both celestial and lively."
– Portland Press Herald
"Nostalgia features some truly sublime playing, both meditative and playful, as well as a successful delivery of the sentiment expressed in the title."
– Portland Phoenix
Carl has also been featured on several CDs by other musicians, including Jennifer Porter's Hyacinth Boy Blue and Nick Humez' Myth Songs.